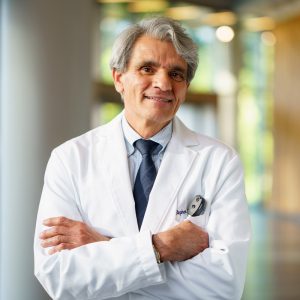 2017 Taubman Prize winner's research led to new drug treatment for MS
Ann Arbor, Mich —  A physician-researcher whose work challenged conventional thinking about multiple sclerosis (MS) is the 2017 recipient of the $100,000 Taubman Prize for Excellence in Translational Medical Research, the A. Alfred Taubman Medical Research Institute announced.
Stephen L. Hauser, M.D., director of the UCSF Weill Institute for Neurosciences and professor and chair of the Department of Neurology at the University of California, San Francisco, will receive the honor in recognition of his paradigm-changing discoveries that paved the way for a highly effective drug in the treatment of MS.
Hauser will accept the award and deliver a keynote talk at the Taubman Institute's annual symposium on October 20 in Ann Arbor.
In MS, the immune system attacks the protective myelin covering around nerve cells, blocking transmission of impulses; this can produce disabling symptoms such as visual impairment, weakness, numbness, and loss of coordination. Thanks in large part to Hauser and his colleagues, scientists now know that immune cells known as B cells lead the attack on the myelin membrane.
Over decades of research, Hauser and his team refined this theory, eventually testing drugs that target B cells.  In a clinical trial of one such medicine, the beneficial results in MS stunned even the researchers. Subsequent studies led to the development by pharmaceutical maker Genentech of ocrelizumab, a B-cell depleting drug that is safer and easier to administer to patients.  Ocrelizumab was approved early in 2017 by the U.S. Food and Drug Administration as a new option for the more than 400,000 Americans with MS. Ocrelizumab is also the first drug shown to be effective against primary progressive MS, the most disabling form of the disease.
"We salute Dr. Hauser for his persistence and original thinking about the causes and treatments of this life-altering disease," said Eva L. Feldman, M.D., Ph.D., director of the Taubman Institute.  "He exemplifies the brilliant and devoted physician-researcher who is motivated by concern for his patients to spend years, even decades in the lab seeking novel treatments that will bring new hope to millions of people worldwide."
The October 20 symposium is free and open to the public; it will take place at the A. Alfred Taubman Biomedical Science Research Building on the U-M campus, and also will feature a commemoration of the 10th anniversary of the institute's founding by the late businessman and philanthropist A. Alfred Taubman.
The Taubman Prize was established in 2012 to recognize outstanding translational medical research beyond the University of Michigan.  It includes a $100,000 award and is presented each year to the non-U-M clinician-scientist who has done the most to transform laboratory discoveries into clinical applications for patients suffering from disease.
Hauser was selected by a national panel of eminent medical science experts from among dozens of nominees.
Previous Taubman Prize recipients are:
2016: Suzanne L. Topalian, M.D., of the Johns Hopkins University School of Medicine, and Jedd D. Wolchok, M.D., Ph.D., of the Weill Medical College of Cornell University, for of their contributions to immunotherapy as a new paradigm in the treatment of advanced cancers.
2015: Mahlon DeLong, M.D., of Emory University, for his contributions to the treatment of Parkinson's disease.
2014: Carl June, M.D., of the Perelman School of Medicine at the University of Pennsylvania, for discoveries related to immunotherapy for leukemia using patients' own T cells.
2013: Brian Druker, M.D., of the Oregon Health & Science University, and Charles Sawyers, M.D., of Memorial Sloan Kettering Cancer Center, for their discoveries related to chronic myeloid leukemia.
2012: Hal Dietz, M.D., of Johns Hopkins University, for his discoveries related to connective tissue disease.
About Stephen L. Hauser, M.D.:  Dr. Hauser is the Robert A. Fishman Distinguished Professor of Neurology at the University of California, San Francisco (UCSF) and director of the UCSF Weill Institute for Neurosciences.
A neuroimmunologist, Dr. Hauser through his research has advanced our understanding of the genetic basis, immune mechanisms, and treatment of multiple sclerosis.
Dr. Hauser is a fellow of the American Academy of Arts and Sciences and the American
Academy of Physicians, and is a member of the National Academy of Medicine. He also serves the Veterans Administration as Chair of the VA Secretary's Research Advisory Committee on Gulf War Illnesses. He is an editor of the textbook Harrison's Principles of Internal Medicine, and has served as editor-in-chief of Annals of Neurology (2008-2014). He is a former president of the American Neurological Association and president of the medical staff at UCSF. He also serves on several scientific advisory boards for nonprofit organizations.
Dr. Hauser has received numerous awards and honors for his work, including the Jacob
Javits Neuroscience Investigator Award from the National Institutes of Health, the John Dystel Prize and the Charcot Award for Multiple Sclerosis Research. In April 2010 Dr. Hauser was appointed by President Obama to the Presidential Commission for the Study of Bioethical Issues charged with advising the President on issues that may emerge from advances in biomedicine and related areas of science and technology.
He is a graduate of MIT (Phi Beta Kappa) and Harvard Medical School (magna cum laude). He trained in internal medicine at the New York Hospital–Cornell Medical Center, in neurology at the Massachusetts General Hospital (MGH), and in immunology at Harvard Medical School and the Institut Pasteur in Paris, France, and was a faculty member at Harvard Medical School before moving to UCSF.