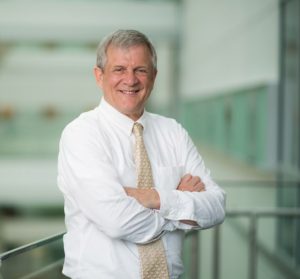 Diabetes and obesity researcher Charles Burant, M.D., Ph.D., has been named director of the A. Alfred Taubman Medical Research Institute at Michigan Medicine.
He succeeds Eva L. Feldman, M.D., Ph.D., who has served as director since the institute was founded in 2007 with a gift from the late philanthropist A. Alfred Taubman. Its mission is to enhance the support of physician-researchers at the University of Michigan through financial grants, mentoring programs and a collaborative community of Taubman Scholars.
"I'm thrilled to take the institute into its second decade," said Burant. "I'm especially honored to be following my friend and mentor Eva Feldman in this position. As founding director of the institute, Dr. Feldman has built a world-class center that has helped multiple clinician-investigators in a critical stage of their careers, and led to discoveries that already are making a difference in people's lives.
"I hope to build on her success," Burant added. "One of my early goals is to work with the Taubman Scholars to increase their access to collaborators, technologies and computational tools, to remain at the leading edge of medical discovery."
Feldman, Michigan Medicine's Russell N. DeJong Professor of Neurology, remains at U-M as a practicing neurologist and head of her own laboratory, the Program for Neurology Research and Discovery.
"Establishing the institute has been one of my proudest achievements and a highlight of my career," said Feldman, whose landmark research includes the first-ever human clinical trial of a stem cell therapy for ALS. "From an ambitious plan in 2007, we have grown by 2017 into a robust community that connects globally renowned thought leaders with new collaborators, all while nurturing the next generation of medical breakthroughs.
"The institute has fulfilled Alfred Taubman's vision, and I am confident that its evolution will be in excellent hands under the leadership of Dr. Burant. His multi-faceted talent — as a clinician, an executive, a mentor and a forward-thinking medical investigator — will take propel the high standards, intellectual rigor and 'high-risk, high-reward' approach of the Taubman Institute to new heights."
Burant is Michigan Medicine's Robert C. and Veronica Atkins Professor of Metabolism endowed chair, and professor of internal medicine in the department of Metabolism, Endocrinology, and Diabetes. He also is a professor of Molecular and Integrative Physiology in the U-M Medical School, as well as in the U-M Schools of Public Health and Kinesiology.
Burant developed and is director of the Michigan Metabolomics and Obesity Center, which provides infrastructure and expertise for researchers across the country to perform basic and clinical research in metabolism, obesity and diabetes. His personal research program studies how individual differences in metabolism affect longevity and risk for metabolic diseases, spanning the range from basic to translational to clinical research.
"Dr. Burant will be instrumental in implementing the strategies and priorities of the Taubman Institute. His broad expertise, experience in creating collaborative research teams, and commitment to discovery and innovation will help propel the Taubman Institute to new heights in research discovery to advance the understanding of health and disease, leading to new medical treatments," says Marschall S. Runge, M.D., Ph.D., dean of the U-M Medical School and executive vice president for medical affairs at the University of Michigan.
"We remain very grateful to the Taubman family for their continued support to make new discoveries possible."