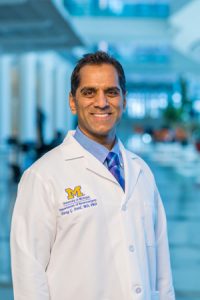 Taubman Institute Chief Innovation Officer Parag G. Patil, MD, PhD, will participate in "The Autonomous Patient: Entrepreneurs Driving Health Care" seminar hosted by Butzel Long, which shares industry success stories with healthcare entrepreneurs seeking a competitive edge.
Dr. Patil, associate professor of Neurology, Neurological Surgery, Anesthesiology and Biomedical Engineering, is a panelist for one of the breakout sessions. He will addresses how harnessing technology and creative thinking helps healthcare providers tackle problems that arise while delivering accessible, affordable, high-quality services. Dr. Patil, who trained as an electrical engineer before becoming a medical doctor, is a Taubman Emerging Scholar and recently was named Chief Innovation Officer of the Taubman Institute.
The seminar is scheduled for March 23 from 7:30 a.m.-1:30 p.m. at the MGM Grand Detroit. Admission is  $50. To register, visit www.butzel.com/events/health-care-2017.