Thanks to all who participated our June 7 gender equity symposium featuring Reshma Jagsi, MD and Janet Bickel.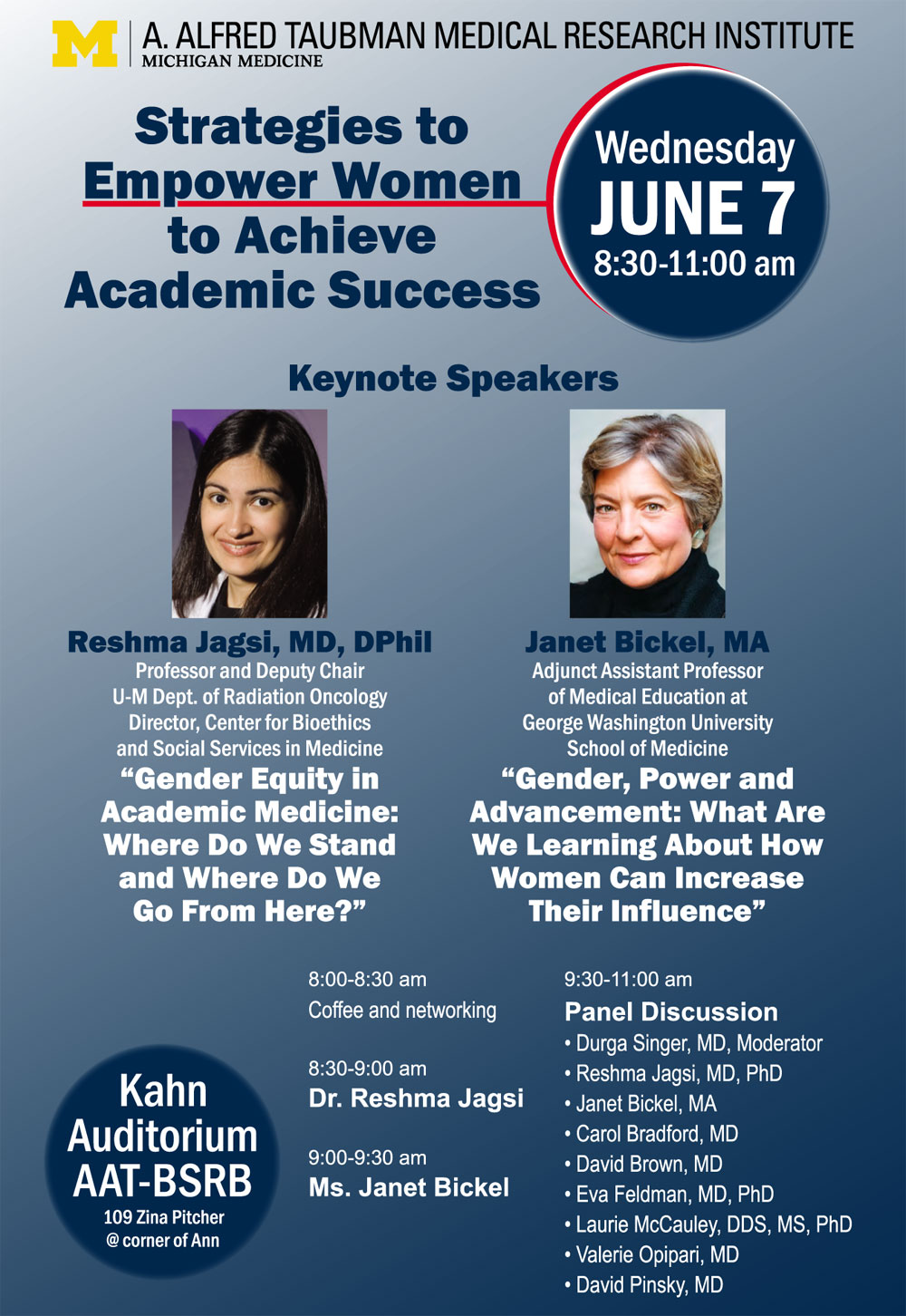 Ann Arbor, Mich. — Accelerating the careers of women in academia will be the focus of a free public symposium hosted June 7 by the A. Alfred Taubman Medical Research Institute.
"Strategies to Empower Women to Achieve Academic Success" aims to close the historic gap that leaves females consistently behind their male counterparts in salaries, grant awards, and opportunities for advancement.
It runs from 8:30 -11 a.m. on Wednesday, June 7, in the Kahn Auditorium in the A. Alfred Taubman Biomedical Science Research Building on the campus of the University of Michigan.
Attendees will confront the reality of today's status quo: Despite comparable numbers of women and men that train in medical fields, women comprise only 21 percent of full professors and 15 percent of department chairs. Men also receive more independently funded 5-year grants to complete research projects.
"Our main goals for the symposium are to bring together women and leaders at the University of Michigan to both enlighten the community about the issues, and also determine how to best overcome these common hurdles that hold back women as they strive to advance their careers as faculty and leaders," said Eva L. Feldman, MD, PhD, U-M's Russell N. DeJong Professor of Neurology and director of the Taubman Institute.
The symposium begins with a pair of keynote addresses by leading experts, followed by a panel of distinguished senior faculty who will discuss related issues such as negotiation and promotion strategies, work/life balance, networking, and tips for success.
Up first is internationally renowned speaker Reshma Jagsi, MD, DPhil, director of the Center for Bioethics and Social Sciences in Medicine and deputy chair in the Department of Radiation Oncology, as well as an expert on gender-based issues in academic medicine. Her keynote address, "Gender Equity in Academic Medicine: Where Do We Stand and Where Do We Go from Here?" sets the stage for the event by enlightening the audience with outcomes from her grant-winning social research.
Career coach Janet Bickel, MA will deliver the second keynote, "Gender, Power & Advancement: What Are We Learning About How Women Can Increase their Influence?" Bickel is a nationally recognized expert in organizational and leadership development, with 45 years of experience in academic medicine and science. She currently serves as an adjunct assistant professor of Medical Education at George Washington University School of Health Sciences in Washington, D.C.
Following her talk, she and Dr. Jagsi will join a panel discussion led by Durga Singer, MD, an assistant professor specializing in pediatric endocrinology and an Emerging Scholar grantee of the Taubman Institute. Singer will facilitate discussions on navigating the academia terrain. University leaders scheduled to participate include:
Carol Bradford, MD, MS, executive vice dean for Academic Affairs for the U-M Medical School, the Charles J. Krause, MD Collegiate Professor and chair of Otolaryngology-Head and Neck Surgery, and co-director of the Head and Neck Oncology program in the Comprehensive Cancer Center
David J. Brown, MD, interim associate vice president and associate dean for Health Equity and Inclusion for the U-M Medical School and an associate professor in the Department of Otolaryngology-Head and Neck Surgery
Eva Feldman, MD, PhD, director of the A. Alfred Taubman Medical Research Institute, the Russell N. DeJong Professor of Neurology and head of her own lab, the Program for Neurology Research & Discovery
Laurie McCauley, DDS, MS, PhD, dean of the School of Dentistry, the William K. and Mary Anne Najjar Professor in the School of Dentistry, and professor in the Department of Pathology in the U-M Medical School
Valerie Opipari, MD, the Ravitz Foundation Professor and chair of the Pediatrics and Communicable Diseases Department and Founding Taubman Scholar
David Pinsky, MD, the J. Griswold Ruth MD & Margery Hopkins Ruth Professor and chief of Cardiovascular Medicine, Founding Taubman Scholar and scientific director of the U-M Cardiovascular Center
Following the panel discussion, an invitation-only gathering of focus groups will meet to identify approaches that can be implemented at the University of Michigan to address and overcome the gender gap in academic medicine.
"We expect women will walk out of this symposium empowered and excited about advancing their potential to become successful academic faculty and leaders," Dr. Feldman said.
The symposium is free of charge; no advance registration is required.  The Kahn Auditorium is located at 109 Zina Pitcher Place, Ann Arbor, Mich., 48109.
Portions of the morning symposium will be recorded and video available at www.TaubmanInstitute.org after July 1.